Facebook is available in number of languages all over the world. For your posted content, if other user adds comment in different (his native) language – ideally you will manually translate language of text to understand the same. For this, one would use online language translator at Google or Bing for translation. Facebook has now integrated Bing Translator into Facebook Pages allowing quick translation with a click of a button.
Use Translate button on Facebook pages
1. You should see translate button on text written in different language on Facebook pages. Clicking Translate button will convert displayed text using Bing Translator in your language. You can click Original button to view actual text written originally in different language.

2. After the user generated translation has received enough positive votes, it will replace the Bing translation and will appear each time someone clicks on the translate button associated with the post. [source]
Language Translation settings for Facebook pages
1. You can configure and choose language translation setting for Facebook Pages as per requirement. Once you have your fanpage opened, click Edit Page button at top right part. This will open Settings webpage for your Facebook Page.
2. Now click 'Your Settings' tab at top left part and look for "Translation From" section. Click to select either of 4 options:
– Admin, community and machine translators
– Community and machine translators
– Machine translators
– None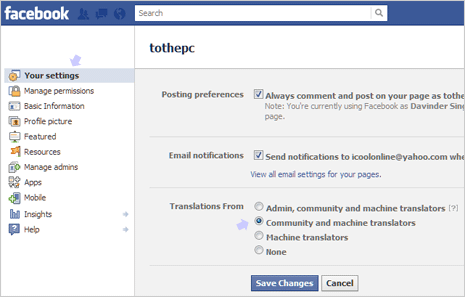 3. Based on your configured settings you should see options to translate language of text on Facebook Pages. Ideally, it is best to leave "Community and machine translators" option as default setting for "Translation From" feature.
With this feature, reading comments and understanding feedback written in different language is just one click away – just click the Translate button to understand it all!
Video: Translation settings & button on Facebook Pages