Do you want to ignore friend request on Facebook? Ideally, there is option to confirm yes or no to Facebook friend requests. However, now you can ignore any received friend request to consider accepting it in future using 'Not Now' option. 'Not Now' feature does not delete or mark NO to incoming friend request on Facebook. It works like 'read it later', you can come back to 'not now' marked (hidden) friend requests anytime for reconsideration.
'Not Now' to hide Facebook friend requests
1. Login into your Facebook account and click 'friends' on the left sidebar.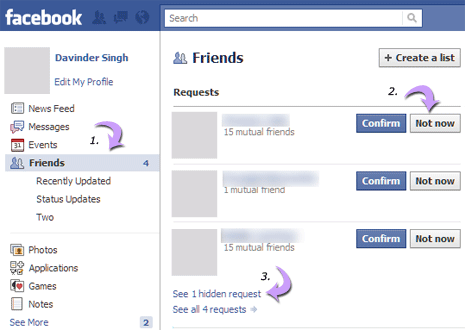 2. You will see list of received requests to be friend on Facebook. Click 'Not Now' button to hide specific friend request which you can consider it anytime in future.
View & delete hidden friend requests
3. On the Friends page, click 'see hidden request' link at the bottom'.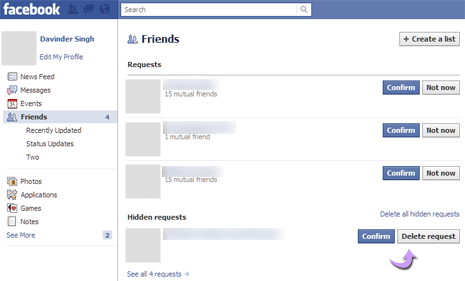 4. This will display hidden friend requests that were marked 'Not now' previously. You can confirm YES to friend request or delete it by clicking 'delete request' button.