For start – there is no Facebook dislike button and will never be, so don't install any application or javascript claiming to be official dislike button on Facebook. [I just got the Dislike button, so now I can dislike all of your dumb posts LOLs],  [Get official dislike button NOW] are few inviting messages that you may have come across asking you try new dislike button on Facebook. Ideally you can show appreciation and share specific post or page on Facebook by clicking like button – dislike button intends to do opposite when you hate certain post or page on Facebook. Too good to be true? Well, this is NOT true and is a latest Facebook scam to trick users!
No DisLike Facebook button, only UnLike button
There is NO dislike button on Facebook. Anyone spreading information about official dislike Facebook button has bad intention to grab your Facebook information or harm your computer. Most likely, Facebook will never have dislike button feature – as it does not make sense. If introduced, most users will use it to mark down other user's content. As of now, you can ONLY like specific content on Facebook and further use unlike Facebook button to unlike previously liked posts or pages on Facebook.
How Facebook DisLike button scam spreads

Your Facebook wall posts might be flooded with messages of 'official dislike button' launched by Facebook. Clicking that link will redirect you install specific Facebook application or Javascript. Once you grant application access to your profile, you create perfect recipe for it to spread and infect other Facebook users. So, be careful – which application you give permission to use your profile information.
Remove Facebook DisLike button from your profile
Spread as Facebook application – Make sure you check which Facebook applications have active access to your profile information.
1. After Facebook login, goto Account > Privacy Settings at top right part.
2. Then click Edit your settings option under Apps and websites at bottom left.
3. Click Edit settings button next to Apps you use option.
4. Click X button next to I do not like or dislike button listing (if any).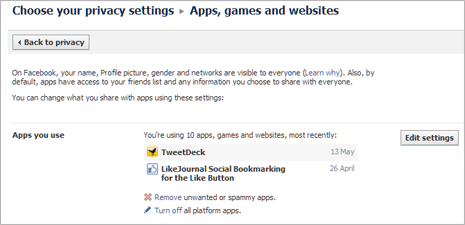 Browser Extensions – Dislike button is also possible through Google Chrome and Firefox extension. Though these are not mallicious and only for fun – you may check and remove specific extensions plugin in Chrome or Firefox on your computer.
Spread through Javascript code – Did you paste any javascript code in address bar?  If yes, then this code can read cookies of your Facebook login and extract your Facebook username, friend list and post on friends wall regarding dislike button. To get over this, logout and delete all browser cookies to disable further spread of dislike scam. It is recommended to change Facebook profile password to be on safe side.