There are number of popular file downloading websites but none provide official download manager for easy file downloading. One has to wait on download page for time ticker to complete and then navigated through few more pages to get final download link. Free users often get low download speed and more obstacles to rech the final file download link.
Also See – 5 Best free Rapidshare Download manager
MDownloader (Dont click, queue it) is a free download manager that can make life easy downloading files from popular file hosting services. It has lot of features that facilitate easy and quick file downloads.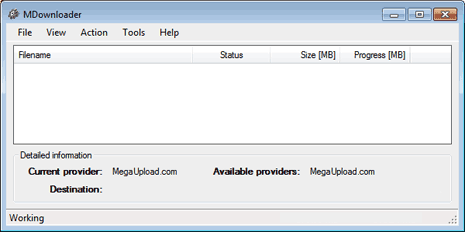 Features of MDownloader
1. Matching interchangeable links (by name).
2. RSS monitoring and Userless mode.
3. Passcode recognition (user must recognize and type it).
4. Page parsing to find supported links.
Download MDownloader file download manager. It support file hosting services like: Bitroad.net, DepositFiles.com, EasyShare.com, FileFactory.com, Hotfile.com, Klurk.com, Letitbit.net, Load.to, MegaUpload.com, Rapidshare.com, SendSpace.com, Uploading.com and zShare.net