In next few days after Holiday season we shall stay good-bye to 2012 and hello to 2013. An essential requirement to prepare for the next 2013 year and never miss a date is by downloading 2013 calendar. Lot of websites offer free downloads of printable 2013 calendar templates. Once you download free calendar templates, you can customize them as per requirement. Further, you can print your calendar creation, stick them on wall or display on the desk for quick and easy access. Both Monthly and Yearly Calendar templates are available for free download in PDF and MS Word (doc) format.
Websites to download free printable 2013 Calendar
1. Calendars at Vertex42 – It has different type and flavors of 2013 calendar templates available for free download. You can download Yearly Calendar in portrait or landscape format or grab the monthly calendar in different flavors of red, ocean, green, purple in PDF format.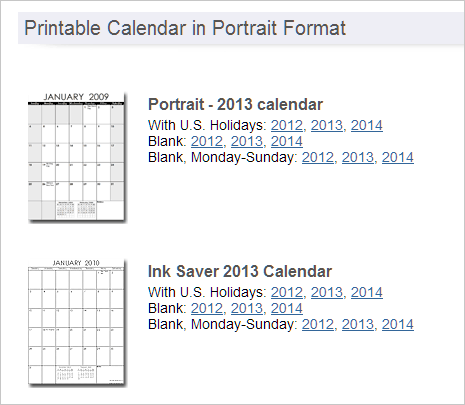 There is also special ink saver Printable Calendar edition with U.S. holidays listing. You can download yearly 2013 Calendar with Notes both in landscape or portrait format.
2. Free printable 2013 wall calendar – Hoover web design offer free PDF file download containing printable 2013 wall calendar. Single file has whole calendar with 12 pages, one for each month from January 2013 through December 2013.

Besides the calendar date display, each month has unique colorful photo on the left side. Just download the calendar file, send it your printer and your printed calendar for year 2013 should be ready.
3. Simple Printable Calendars – Print activities website list monthly 2013 printable calendars from January 2013 to December 2013 in different colors like: blue, green, pink, while and yellow. Design of calendars available for download is very simple, practical and easy on eyes.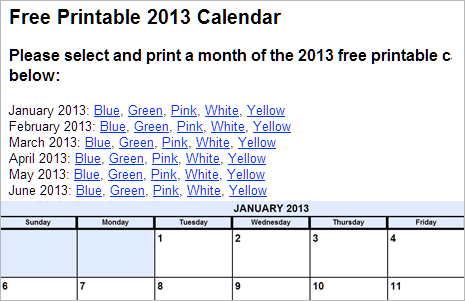 It also offer 2013 calendar download in weekly format. For example: for month of January 2013 you can download calendar for weeks including: January 6 – January 11, January 13 – January 18, January 20 – January 25 and January 27 – February 1.
4. Calendars Labs – You can download variety of free 2013 calendar templates like: 2013 monthly templates with notebook background and US holidays, 2013 monthly classic design template, 2013 red floral monthly calendar template, 2013 monthly antique design template.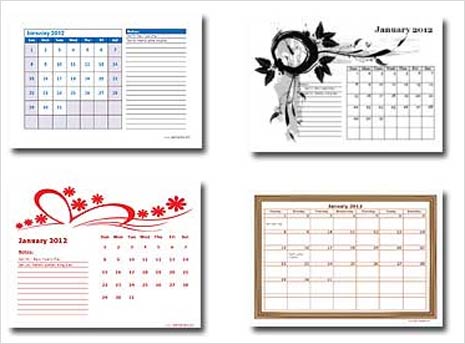 Also download: 2013 monthly templates with spaces for long notes, 2013 monthly traditional calendar template, 2013 yearly Julian calendar template in portrait format with 12 months are spread over in one page.