Today is Fools day and Google has come with an interesting Techno Prank for this special day. Nothing serious all fun – it's gDay with MATE, Search tomorrow's web, today!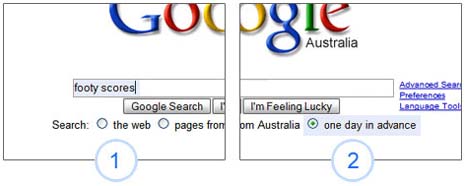 Open Google Search, select button "One Day in Advance" and you can search content on the internet before it is created. Here is how this prank will get in serious techno thinking:
"… The core technology that powers gDayâ"¢ is MATEâ"¢ (Machine Automated Temporal Extrapolation). Using MATE's machine learning and artificial intelligence techniques developed in Google's Sydney offices, we can construct elements of the future."
"…We can use this technique to predict almost anything on the web – tomorrow's share price movements, sports results or news events."
Besides the heavy loaded description of Gday technology, you can also read testimonials of people who have used this. Here goes: "…This is awesome. I can now check the questions ahead of time and impress my girlfriend by knowing all the answers to 'Are you Smarter than a 5th Grader?"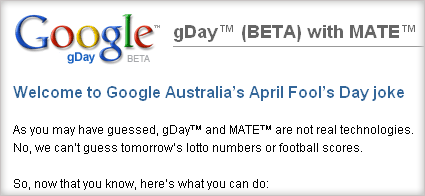 After reading all the above stuff when you attempt to use this new technology, you get it in your face. It's Google Australia's April Fool's Day joke. Last year Google came up with TISP to trap you on April Fool's Day. Anyway, it's one day anyone can fool around – enjoy it!