Google has introduced a new feature that allows any Google Plus user (even unknown strangers) to email you on your connected Gmail account. While this is a next step for integration of Google Plus with other Google services like Gmail but it can be a major privacy hazard. By default this feature is enabled for every Gmail users with Google Plus account.
Disable google+ users option to send emails on Gmail
Even though Gmail spam filters are very good in keeping spam out but this feature opens a big door for spammers eager for email abuse. If you are not active on Google Plus, then it is recommended to disable this feature.
1. Open Gmail account settings by going to gear icon at top right and then clicking on 'Settings'. Under 'General' tab look for emails via google+ section.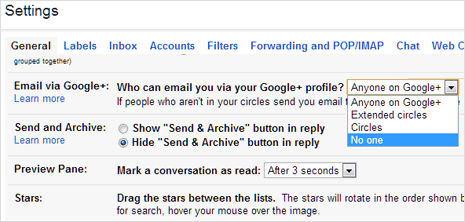 2. Select 'No One' from drop down box next to Who can email you via your Google+ profile option. By default 'Anyone on Google+' option is selected. After changing option, make sure to click Save Changes button at the bottom.
Video: Stop Google+ users from sending emails on Gmail
Once you make above settings change, no google+ user can send email messages directly into your Gmail account. This is an ideal setting for active Gmail user and not so active Google+ user.
Controlling this setting for active Google+ users
If are active on Google+ for personal or business reasons, then disabling this option is not recommended. This feature provides direct and easy way for your Google+ audience to connect with you. Instead select: circles or extended circles option to allow select group of google+ users to send you email messages on Gmail account. People in your circles (and extended circles) are known to some extend and are most likely will not use this feature for spamming.