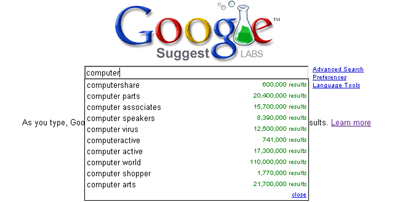 Above image should give indication of what 'Google suggest' is all about. "…As you type into the search box, Google Suggest guesses what you're typing and offers suggestions in real time. This is similar to Google's "Did you mean?" feature that offers alternative spellings for your query after you search, except that it works in real time."
This has been part of Google Labs to test few advancements in current Google Search. As seen in image, Google dish out related search results along with their respective number of results.
Now this "Google Suggest" feature is coming to Youtube in order to help you find videos in a better and quicker manner. In Youtube, this feature is enabled by default, but you can disable it in the "Settings".
As pointed by GoogleSystem, this feature is currently live only for international sites like YouTube UK and only if you search from the homepage, but it should be available at YouTube's main site in the near future. Is it useful?