Google+ Plus (plus.google.com) is another Google's attempt to provide social networking service similar to Facebook. As expected, few users will like it and few users may find it useless after using it for sometime. If you feel Google+ Plus is not for you – you can safely delete and remove your newly created Google+ Plus account and its content. Make sure you only delete Google+ Plus account and not the associated Gmail or Google account.
Erase Google+ Plus but keep Gmail, Google account
1. Login into your Google+ Plus account at plus.google.com website. Then click on Settings icon at top right and click Google+ Settings option. This will option Google+ settings webpage.

2. Click Account Overview tab on the left side to access basic Google+ options. Scroll down and look for options under 'Services' section.
3. Click on "Delete profile and remove associated social features" option next to Delete profile and social features. This allows you to delete only Google+ Plus social service but keeping your existing Gmail or Google account intact.
If you want to delete Google+ Plus along with associated Gmail or Google account then click "Close account and delete all services and info associated with it" option next to Delete account.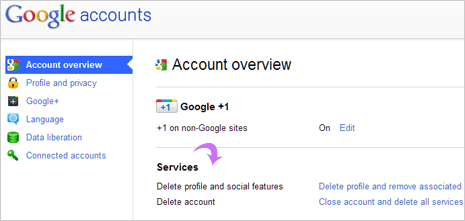 4. Then click to select Delete Google+ content. You should see listing of content that will be deleted or will be left out.
Content that will be deleted includes: your +1s, circles created by you, published posts and comments, profile information that was not made public, content from other service like videos posted.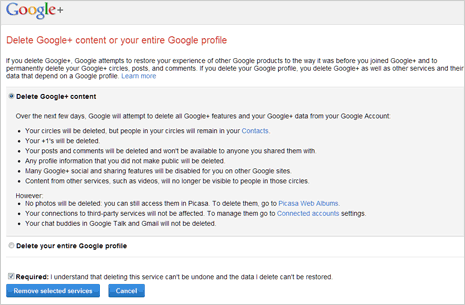 Content that will NOT be deleted includes: None of your uploaded photos will be deleted as you can access them by going to your Picasa Web account, chat buddies can still be accessed in google talk and Gmail. Also connection to third party services will not be affected.
5. Once you have read which content will be deleted or retained, click to check Required option. Then click 'Remove Selected Services' to erase and get rid of your Google+ Plus account.
Video: Deleting Google+ Plus account