So you are using Google Chrome to surf websites in office, college or work place. Suddenly, your boss or colleague shows up to check what you are surfing on the internet. No need panic, if you can have panic button in your Chrome browser. It allows you to hide all current tabs in single click or using shortcut key.
Hide tabs & restore with optional password
1. Launch Chrome browser & install Panic button extension.
2. While browsing just click panic button. All opened tabs will be hidden and new blank tab will be opened.

3. Right click the panic button and click options to configure settings of this extension.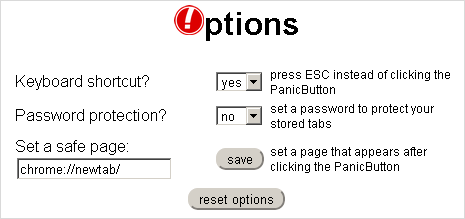 You can set keyboard shortcut key to initiate panic button. You can also set password for recovering hidden tabs. There is option to set safe page which should open when all current tabs are hidden. By default blank new page is set, you can also add any other url of your choice.
Chrome ready for internet browsing in office, what say? There is always a way to access blocked stuff in office, work, school – like accessing blocked gmail!