Are you bored of default look of 'new tab' in Google Chrome browser? You can easily customize contents appearing in new tab of Chrome using different Chrome extensions. You can configure it to display blank webpage or open specific website URL. You can also add various style elements like websites thumbnails, background image, themes and more.
1. Blank / custom URL in 'new tab'
Custom new tab is a neat Chrome extensions that cleans up page that opens in a new tab. By default it opens a blank page in the new tab. You can also make it open specific website URL everytime a new tab is opened in Chrome browser.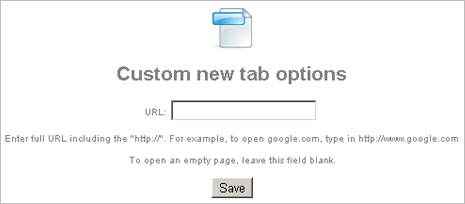 For this you need to open its option page to type specific URL. Click on wrench icon on top right and then goto Tools > Extensions. Click 'Options' link next to 'custom new tab' extension listing.
There are more ways to open blank / empty new tab webpage in Google Chrome browser using different extensions and manual method.
2. Stylish 'new tab' with social buttons & search
If you do not like simple alternative as discussed above, you can jazz up your 'new tab' window using new new tab [Not available now – chrome.google.com/extensions/detail/nebejaggmcjapldnklcmofnlmiedojcc?hl=en-US#] Chrome extension.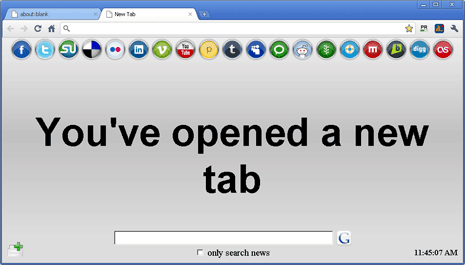 It adds stylish gradient background with neat social website buttons at the top. It also displays Google search bar in the middle and digital time clock at bottom right.
3. Speed dial display in 'new tab'
Speed Dial for Chrome extension add stylish speed dial display in the 'new tab'. It allows further customization like deciding on the number of dials on the page.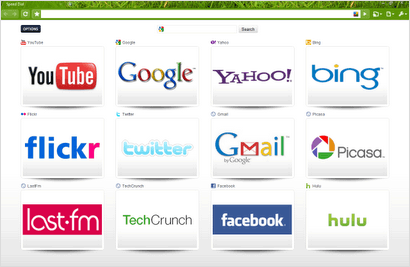 You can also select desired theme and background image to customize speed dial design appearing on new tab of Chrome browser.