Sometimes we come across a webpage containing language not known to us. Even to translate a webpage into English using Google Transalator you need to know the name of the native language. So, how do you know the language being used in specific text, email or webpage?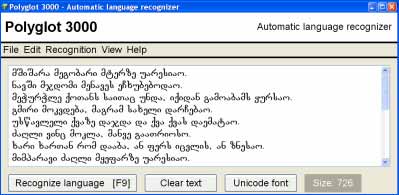 Polyglot 3000 is a handy utility that can can automatically identify the language used in a text, phrase, or even a single word. Just paste or type the text into the provided field, or load a text file, and the program will identify it from a database of over 400 languages that it can recognize.
The longer the text sample, the better are the odds of proper identification. It works fine on Windows 98, 2000 and XP. Basic features include:
Recognizes more than 400 languages.
Convenient user interface.
Quick and correct language identification.
Can be set to only check for popular languages.
Multilingual interface (English, German, French, Spanish and others).
You can also check the complete list of 446 Languages and dialects it supports. Download Polyglot and identify any language with a quick copy & paste operation. Easy and very useful, what say?