Typing an email messages in different language other than your default language is always a cumbersome task. There are number of additional tools that can facilitate text typing in other languages like using virtual keyboard in Chrome browser. Gmail has handy in-built collection of input tools including: 100 virtual keyboards, transliteration and IMEs. These allow you to type in other languages without need or support any additional external tools.
Enable Input tools in Gmail & select languages
1. Once you login into Gmail, click on Gear icon at top right and then click "Settings" option. Under "General" tab, look for "Language" section at the top of the page.

2. Now click on "Show all language options" to view Input Tools option. Click to check "Enable input tools – Use IMEs, transliteration, or virtual keyboards to type in the language of your choice" option. This will open pop-up window for Input tools language selection.

3. Select and add one or more languages in the right panel. All selected languages will be readily available in your Gmail inbox while composing new messages. As an example: we have selected Hindi transliteration and Hindi virtual keyboard options.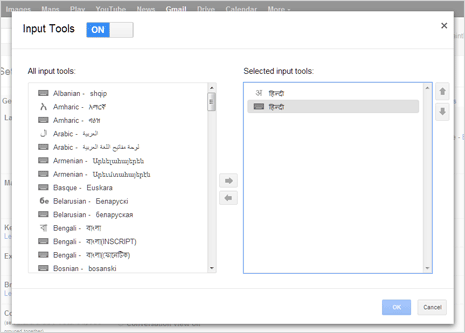 4. After selection, make sure you click "Save Changes" button at the bottom to confirm on changes. Note: You can quickly enable or disable Input Tools in Gmail using quick keyboard shortcut : Ctrl + shift + K keys.
Using Gmail input tools to type in different language
1. Click Compose button for typing new email message. Input tools option should be visible at top right part of the inbox window. You can click to select specific language or tool (among virtual keyboard or transliteration options).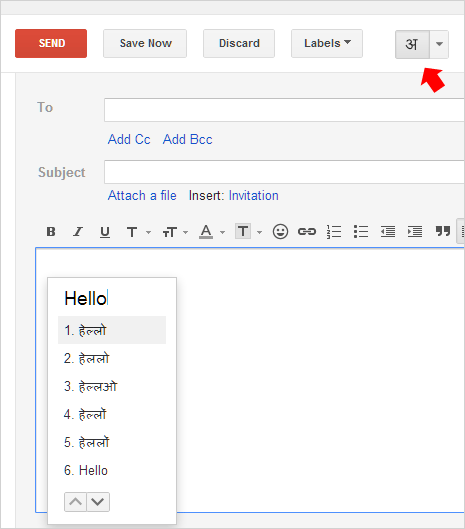 2. While typing you will get options to add specific word in different selected language. Also, you can use virtual keyboard option to directly type text in different language. Depending on your comfort level, you can combine various language tools available in Gmail for quick and easy text typing in different languages. [via Gmail blog]
Video: Gmail email in other language (Hindi, Punjabi)