Gmail has bumped up a feature that will please many Indian Gmail users. It has added support support for five Indian languages – Hindi, Tamil, Telugu, Kannada and Malayalam. It means, you can send email in these languages from Gmail account. All users in India will have this feature turned ON by default. Other users can manually turn this feature ON from settings > Language.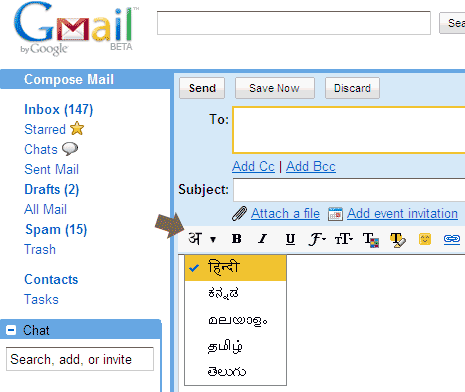 Please note, this is not usual machine language translation. If you want to write something in hindi make sure you know hindi language. For example type namaste as in English and hit spacebar – with hindi option selected (see pic) you will see namaste written in hindi language. Similarly, vanakkam in Tamil and so on for other words.
This feature will find many takers in India and for sure is welcome addition. Now with ability to interact in native language, we can connect with more people using ever so evolving and user friendly Gmail, what say?