SVG stands for Scalable Vector Graphics. This type of image format is interactive and dynamic. Now you can easily search for SVG image vector graphic files using Google Image Search. Just set the image search filter to SVG files only and you should able to find SVG files of your choice related to any keyword quickly.
Google Image Search for SVG vector files
1. Open google.com and click Images at top right.
2. Once Google Image Search homepage is opened, click Advanced Image Search option next to 'Search Images' button.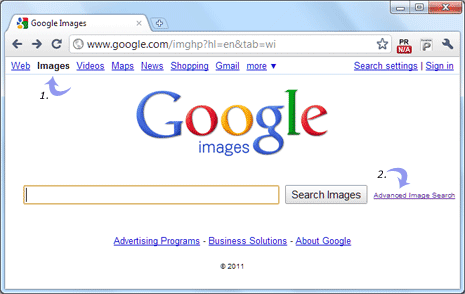 3. Look for filetypes option [Return only image files formatted as]. Click on dropdown box and select SVG files option.
4. Then enter image search keyword in text box at the top. For example: Microsoft to find SVG vector graphic images with microsoft logo.
5. Click Google Search button to view image search result displaying only SVG vector files for Microsoft keyword.