For starters, creating HTML webpages can be big and confusing task. Gone are days, when we use to open Notepad editor and start typing HTML code for webpage creation. Now there are so many free tools available for quick HTML webpage generation. Google Drive Docs provide free online solution for making webpages on the fly. With Microsoft Word like interface, you can easily add images, tables and other elements and also format webpage design as per requirement.
Make HTML webpage online in Google Docs Drive
1. Open Google Drive website drive.google.com and login using your Gmail or Google Account. Click on Create button at top left and then click on Document option. This will open online document editor for writing new document file.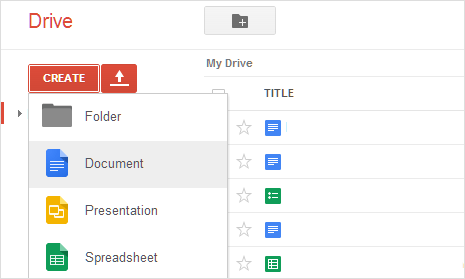 2. Rename your document file to something more meaningful like My Website. Start by adding header to the document, goto Insert > Header option to insert header area to the document.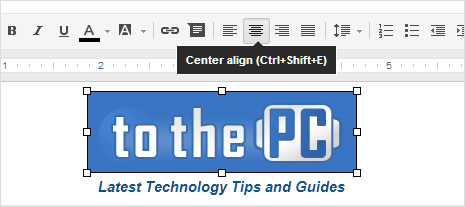 3. Then goto Insert > Image and upload logo image for your website. You can select and upload image from your computer or use existing online image. Once image is upload, add to your document header and then center align it.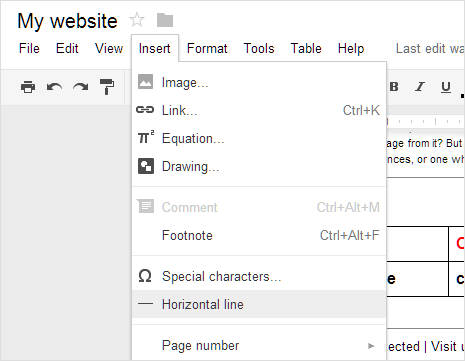 4. You can add horizontal line by going to Insert > Horizontal line option. This acts as neat separator between various elements in the document. Then type or paste text that you want to display on the webpage.
5. You can add lot of other elements in the document, like tables, drawings, special characters and much more. This all depends on look and format of webpage that you have in your mind.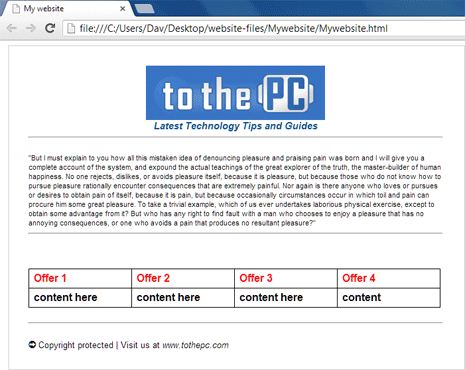 6. Once your document is complete, goto File > Download As > Webpage option. This will download document as ZIP file containing your HTML page and attached images. Unzip downloaded file to view contents. Double click the My Website HTML file and your webpage should open in the web browser.
Video: Make HTML webpage using Google Drive
While this was demonstration to create simple HTML webpage, you can make more complex and sophisticated looking webpages by exploring various tools and features available in document editor at Google Drive (Docs). Now webpage creation is quick, easy and absorbing – what say?