Google Maps is an interesting way to explore geography and terrain of different countries, cities and places around the world. We have already seen Google Map Buddy that allows you to join and save Google Maps. Google Map Saver is more easy and portable tool to grab screenshot of Google Maps and save it on the computer.
How to Use Google Maps Saver
1. Download Google Maps Saver [400kb] program.
2. Double click to launch the application.
3. In Location/POI select or type country, city or place name.
4. Select the window size, resolution, output format type.
5. Click on GO to preview the map & then click Save button to download specific Google Map image.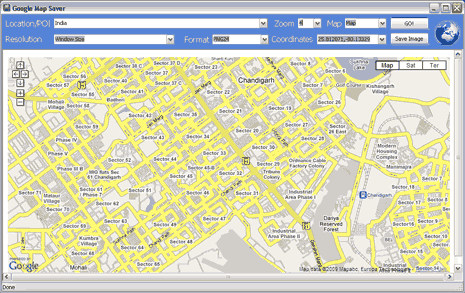 By default, it will add watermark to saved map image. You can easily remove this watermark, just click Globe icon at top right and then click activate button in pop-up window. Restart the program and now you can save Google Maps without watermark. For sure one quick and very easy to use app to save Google Maps. Grab the maps you want for personal use only and dont remove the Google mark on final images.