MacBook pro is available in different models like 13 inch, 15 inch and 17 inch. Besides the size, models can be differentiated by the year of the release like early 2009, mid 2010 and so on. You can easily identify and find model type (and corresponding year) of your MacBook pro computer using following procedure.
Check model type of MacBook pro
1. Find MacBook pro serial number, goto Apple menu and click 'About this Mac'. Then click on version text on the pop-up window to know the serial number. Alternatively, you can find serial number at the bottom of MacBook pro or on packaging material / purchase receipt.
2. Then open service & support coverage webpage on the computer.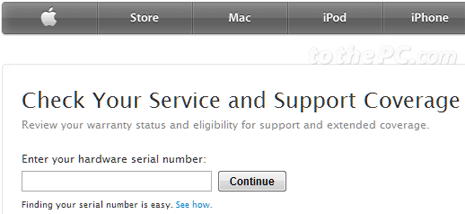 3. Paste or enter serial number in the box under 'Enter your hardware serial number' and click Continue button. Next screen will show you the model type of the MacBook pro system based on the entered serial number.