By default, mouse in Windows 8, 7 and XP computer is configured for a right handed user. Left clicking on mouse is done by first finger, while right clicking is done by second finger. Not all Windows users (infact people) are right handed. Use of a right handed configured mouse by a left handed person can be a problem. To overcome this, you can switch left – right mouse buttons from mouse settings and make it left handed friendly.
Configure Mouse for left handed users on Windows
1. On your Windows desktop, click the Start button and type Mouse Settings in the search bar. Then click on Change Mouse Settings option to open Mouse Properties. Alternatively, you can also open this from Control Panel by going to Hardware and Sounds and then clicking on Mouse option under Devices and Printers.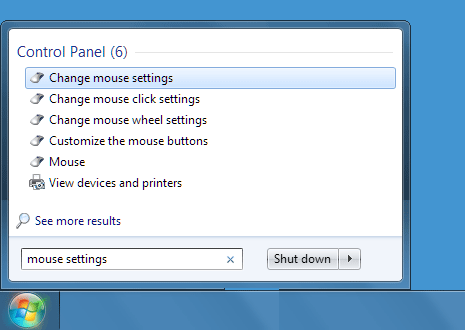 2. On Mouse Properties window, look for Mouse Configuration section at the top under Buttons tab. Click to check  Switch primary and secondary buttons option. Then click on OK button to confirm changes (now you need to right click on OK button).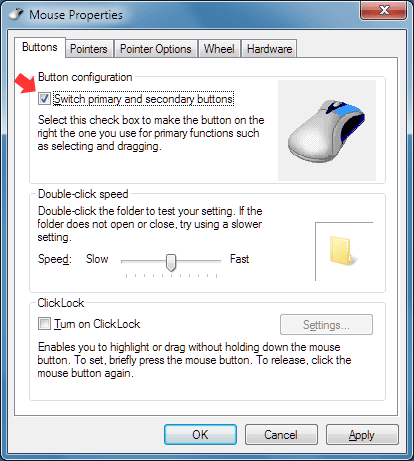 Please note, once you check the option for switching mouse buttons – you need to use opposite buttons or best use mouse in left hand for more natural left and right clicking of mouse on Windows. To revert back to original right handed mouse settings, just uncheck the option as seen above.
Video: Make Windows Mouse left hand friendly
For a single left handed user on a specific computer, changing and keeping this setting is very useful. However, in-case of multiple users on same PC with different left and right handed use – one has to change this setting every-time as per specific user preference.