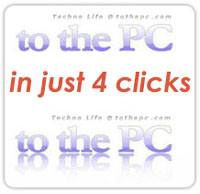 Making a good reflective web 2.0 icon takes a lot, if you are a newbie. Previously I wrote about how to make 3D Web 2.0 Icon for your site with ease, but this step by step guide was for those, you have photo-shop installed and know bit of its functionality.
Here is good news, you can do the same thing without the photoshop and huge number of steps in just 4 CLICKS.
Yeah, will take less than 2 minute and only 4 clicks to make a reflective web2.0 icon.
For this, you need to have a base image that needs to be worked upon. Check on the top-left for the base image that I have chosen. Then perform following steps:
Open this cool online tool: ReflectionMaker
Enter the URL of the base image or use browse button (if image is stored on the your computer)
Select the reflection size by moving the slider (I used 75)
Select the image background color (I used white)
Then click on generate button and reflective icon is ready!
You can right click on the output and then click on copy to transfer image to your computer. You can also click on download button there for the same.
Even though I know Photo-shop, I Will prefer to use this service for two reasons: Saves hell lot of time and for that very polish/clean output. I m loving it!