Safari is default browser app to surf websites on Apple iPad. We have already seen procedure to clear internet history and cookies stored in Safari on iPad. Few users may have noticed that bookmarks bar in Safari is visible occasionally and does not show up all the time. You can enable bookmarks bar to view it all the time in Safari interface.
Enable to view Safari bookmarks bar
1. Select 'Settings' on the iPad home screen.
2. Then select 'Safari' from the left side of Settings screen.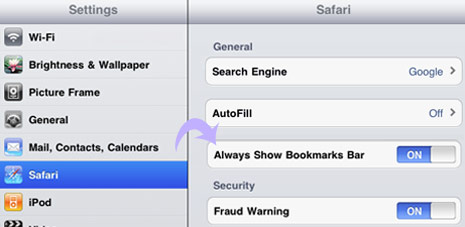 3. Select ON for 'Always show bookmarks bar'.
After above settings change, launch Safari on iPad, bookmarks bar will be visible at the top. You can click + sign on bookmarks bar to add new bookmarks links in Safari on Apple iPad.