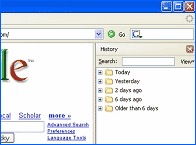 Sidebar on the left side in firefox – is it too boring or annoying for you?
Well, get it over this by moving the sidebar to the right side with ease. RightBar 0.4 Firefox add-on does the same with ease and simplicity.
After the install, you can move the sidebar to right side using this extension feature. Sidebar on the right allows more focus on the content of webpage being viewed as we read fom 'left to right'.
If you use sidebar on regular basis, then this addon can be of real help to reposition sidebar to a more comforable position. Download Rightbar, it works with Firefox 1.0 – 3.0