[Windows 7] Many programmers are so use to work with the keyboard and hardly use mouse.  Windows 7 support cool feature of opening opened applications taskbar using quick keyboard shortcut. Best part, you can selectively open any application listed on the taskbar using specific keyboard shortcut.
Keyboard shortcut for Taskbar Application
Jjust  press Windows key + number. For  example  if you press Windows+2key, then Windows will open the application which is at the second location on the taskbar. Similarly you can open the other applications that are pined in the taskbar. You can also use this for minimizing or maximizing the opened application.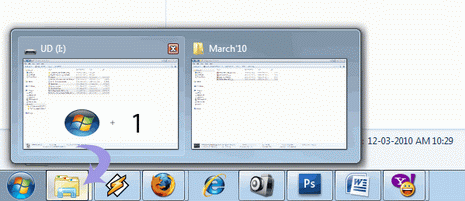 Note: Use number keys which are at the top and not the number pad on the right side of the keyboard.