Most of us know how images can be used or abused once they are posted online. Be it images on your personal site or on hosting services like Flickr, it is very important to credit and watermark them to prevent any misuse.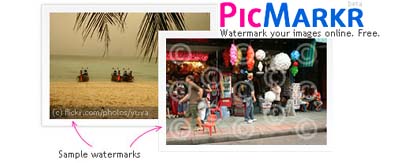 We can watermark images in highly customized format using Photoshop. However, this will take some time and expertise at using the software. Here is an alternative for all of us, who don't have time to learn photoshop and yet want equally professional results in watermarking images. PicMarker is FREE and easy online tool to watermark images on the fly. Here is the simple procedure to use it:
Upload files from computer or from your Flickr account.
You can upload maximum of 5 images at one time with size less than 25MB.
Select type of watermark among, text, image and tiled options.
Few Clicks and you get the output image with watermark.
Nothing to download or install and it is all FREE.
Options to select type of watermarking among text, image and tiled makes this service even better. You can use own image-logo as watermark on your images. Besides you can also render tilled watermark similar to watermarking done by Stock Photography websites. Surely, watermarking made easy.