Google Chrome is a simple yet effective web browser software to surf internet. You can easily extend functionality of Google Chrome browser using different Google Chrome extensions. Chrome Web Store has listing of various Google Chrome extensions is neat organized manner under different categories, top rated, featured and popular. You can experiment with Google Chrome functionality by trying out latest Google Chrome extensions from the Chrome Web Store.
Manually check Latest Google Chrome extensions
UPDATE – With new look Google Chrome Web Store, there is no default way to view latest extensions added to the store!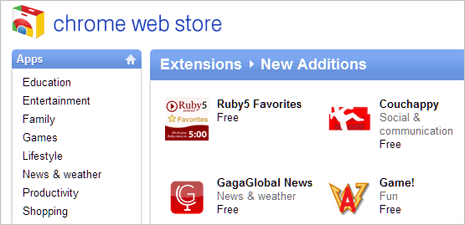 You can open New Additions page of Chrome Web Store to view recently added extensions. Further, you can click through listing of any extension to read more details along with screenshots and install extension link.
View Latest Chrome extensions on Chrome toolbar
If you are too addicted on checking on recently added extensions for Google Chrome – how about checking them within Google Chrome from the top menu toolbar instead of manually visiting the Chrome Web Store. You can easily do this using 'Latest Chrome extensions'.
1. Open Latest Chrome extensions [Not available now, chrome.google.com/webstore/detail/lgfiickmofnonhjfloekolekpanggemb] webpage. Click Install button to proceed with downloading and installation of this extension. After install, you should see new icon on the menu tool for 'Latest Chrome extensions'.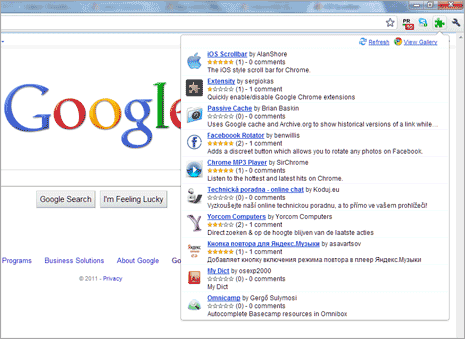 2. Click on the icon to view list of recently added Chrome extensions in the pop menu displaying latest extensions names along with brief description, publisher name, star ratings and comments. You can click through to open specific extension webpage for more details and download.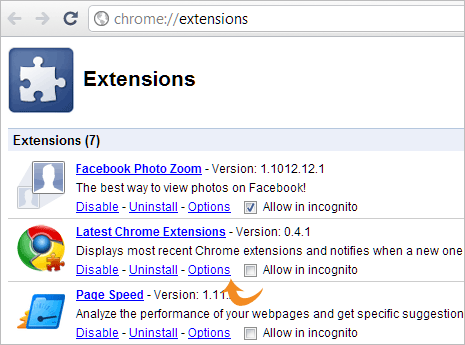 3. You can also customize 'Latest Chrome Extensions' from Options screen. Click on Wrench icon at top right and then goto Tools >Extensions. Then click Options button under 'Latest Chrome extensions' listing.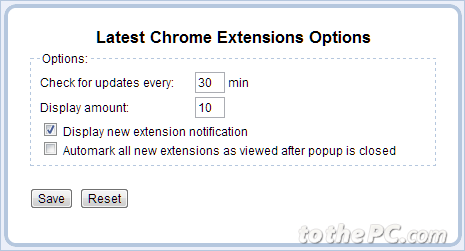 4.  On the Options screen, you can enter time (in minutes) when this extension should check for updates for recent Chrome extensions. You can also select number of extensions displayed in the pop-menu on Chrome toolbar. You may also enabled option to 'Automark all new extensions as viewed after popup is closed'.
Video Demo: View Recently added Chrome extensions
First part of the above video show manual way to browse recently added extensions in Chrome Web Store. While later part of video explains procedure to install 'Latest Chrome extensions' and viewing recent extensions directly on the top menu toolbar of Chrome browser.