Youtube introduced Holiday Greeting Cards during Christmas to send any Youtube Video as a Greeting Card. Now here is Bubble Joy, it allows you to send Video Greeting Cards for any occasion for Free. You can create richly interactive and fun video greeting cards with this online service.

For any special occasion let your friend and family hear and see you wishing them. Website has very neat interface and does not require any login or registration crap. Just select the template for the greeting card, record a quick video and send the video!
There are number of different Card templates to chose from. In tune with the special occasion select your Video card template. It also lists the popular Cards among users. Here is a quick snapshot of few colorful templates available to dress up your video.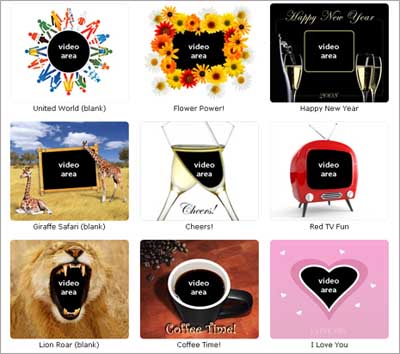 Bubble Joy: Website – See Template Cards – About
Very easy and simple service. Not much to write about, just check your webcam and make it ready to record some messages with Bubble Joy to spread some bubbles of joy with personalized greeting videos for FREE!