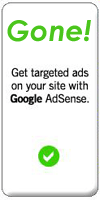 There is a little bit of bad news for Adsense users all over the world except North America, Latin America, or Japan. Google Adsense has decided to dis-continue its 'Referral unit for Adsense'. Please note, this does not mean all Adsense referral units have been discontinued.
This decision only affect one referral unit for adsense. In more simpler terms, the button or text we use for asking users to sign up for Adsense has been yanked off. Generally one gets commission if someone signs up for Adsense program using your 'Adsense referral button or text'.
This policy will take effect in the month of January (2008). While 'referral for adsense' has been yanked off for most users, referral for Adsense holds good for users in North America, Latin America and Japan.
However, pricing structure for Adsense users in North America, Latin America and Japan has been revised for 'referral for adsense'. Now payout for referring a user who generates $100 with AdSense in the first 180 days will be $100. Bonuses have been taken off.
Is it so bad? Well, this decision will not affect most of Adsense Users. First, referral units don't perform that well as compared to generic Google Ads. Secondly, not many have successfully earned good from 'Referral for Adsense' – this includes me as well!
Official reason provided for this decision is less than expected performance of 'referral for Adsense' unit. Fair decision but implementing a policy based on region/country sounds but iffy. [via – Adsense Blog]