Google is making it easy and all integrated among its various web properties. Soon after Google acquired Feedburner, such changes were expected. Now you can show Google Adsense ads from Feedburner account dashboard.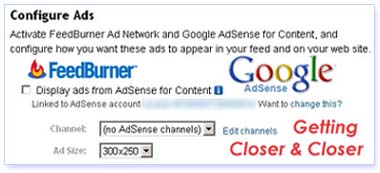 Are these ads for site or feed? It looks like ads for site and no adsense ads to monetize feed as of now. If you go through FAQs here is what they have to say about AdSense for my feed-powered content:
"The FeedBurner gang is working tirelessly over here to integrate feed-related services into the Google family of products and we're specifically focused on services that will help you expand your reach and earn revenue."
What is the procedure to use this? It is very simple process, here goes:
Login into Feedburner account and click on Monetize tab.
Then click on activate button and save settings.
Then click on link to login/create Adsense account.
If you have Adsense account, you will need to verify via email.
After this you get Ad setting as shown in image above.
Which code to use to show there ads? Well, if you already use Feedflare code then you don't need to make any template changes, ads will start appearing by itself. Also note, AdSense advertisements will be shown only if there are no FeedBurner Ads for that location.
A good step forward. However, major thing that everyone will be looking forward to is 'Adsense for Feeds', isn't it? [via – techbuzz – Feedburner Blog]