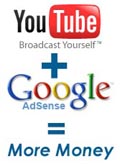 Google Adsense is innovating for good all the time. Recently it released Google ads for mobiles and now its is the launch of Google ads on Youtube video. This can be another source of revenue for you, if you plan to embed any youtube video on your site and show video ads on that.
Best part is, ads on video player are non-intrusive and does not effect the video viewing pleasure at all. You can also customize the color scheme and layout of the video player embed on your site. Besides there are three different player sizes to chose from.
As official adsense blog explains, "Simply embed a snippet of code and have relevant YouTube partner content streamed to your site. You can choose categories of video to target to your site, select content from individual YouTube partners, or have video automatically targeted to your site content".
There are 2 types of ads shown on a video , Companion & text overlay ads.
Companion Ads: These ads appear above your video content within the player and can be either text or image-based. (eg Gmail ad in pic)
Text Overlay Ads: These ads appear in the bottom 20% of the video content area. Ads on video units can be paid on either a cost-per-click or cost-per-thousand impression basis. (eg Make Money ad in pic)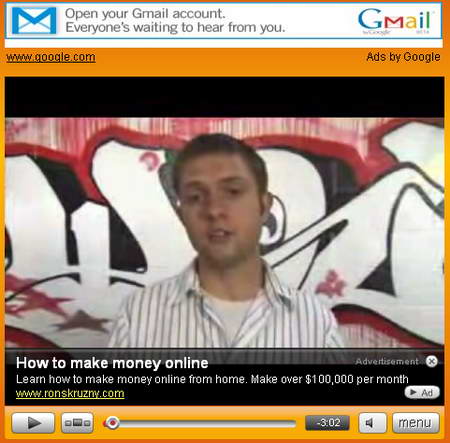 Excited? Well, procedure to implement this is really easy. Login into your AdSense account, goto AdSense Setup tab and then click on the video units link. You can read more about this feature at Google Adsense Help Center. via
Don't Fret if you do not see the option for video unit in your AdSense account as this feature is being rolled out in phases.