'Allowed Sites' is a feature in your Google AdSense Account control panel, that allows you to define domains where adsense ads should be shown for your account.
So… should you use this or NOT? Well, read on and try to make up your mind. Personally I am bit confused on which way to go, though probably I am more for not using this feature.
Before I go to PROs and CONs of this feature, here is the procedure to access 'Allowed Sites' feature in your Adsense control panel.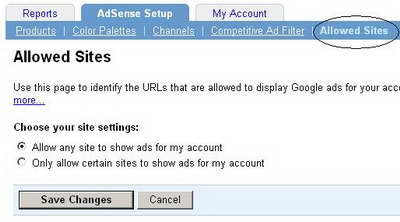 Login into your Adsense account.
Click on AdSense Setup Tab.
Then click on 'Allowed Sites' option.
You can check either of two options: 'Allow any site to show ads for my account' and 'Only allow certain sites to show ads for my account'. Then click on Save Changes button.
PROs of Allowed Sites option: Biggest advantage is that a Adsense publisher can inform Google about which domains he/she will be using to show Google Ads. This will prevent abuse of publisher ID and will not result on account being banned, as the case may be.
CONs of Allowed Sites option: Well, if you are running Google ads on a site/domain that is not mentioned in the list of domains under 'Allowed Site' then impressions and clicks will not be recorded. So no money honey from that domain, if one goofs up here.
Another important point provided by Amit of Digital Inspiration is worth pondering on.
A part of traffic coming to this site originates from Google/Yahoo cache (when the main site is inaccessible), online translation services like Babelfish (for non-English visitors) and from proxy servers (where the site may be banned). And some social sites / web directories display external content inside frames.
In all above cases, one may not able to monetize site if Allowed Sites option is turned ON. In case, you are going to use this feature make sure that domain list is updated on regular basis.
For me, CONs seems heavier regarding use of this feature. However, if you suspect abuse of publisher ID you can always turn this feature. It only takes a few hours for settings to take effect ;)