Has Recycle Bin icon gone missing from desktop screen on Windows 7 system? Recycle Bin is most used icon and is a must have for majority of PC users. You can easily restore missing recycle bin icon on the desktop screen in few simple clicks on Windows 7 operating system powered computer.
Restore Recycle Bin icon on Win 7 desktop
1. Right click Desktop screen & Click Personalize.
2. Click "Change Desktop Icons" option at top left part of personalization window.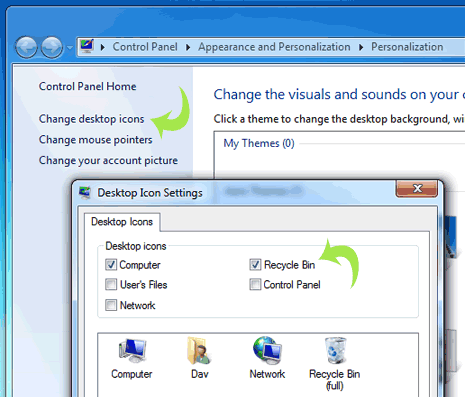 3. In the "Desktop Icon Settings" window, click to select "Recycle Bin" option.
4. Then click Apply, OK to restore recycle bin icon.
If Recycle Bin icon has gone missing on Windows XP or Vista computer, then checkout solution to restore it from Microsoft.