Windows Hibernate function support hibernate feature on Windows operating system. If you do not use hibernate feature then you can disable this feature and save lot of hard drive space. Hibernate function creates hiberfil.sys file that store snapshot of Windows system at specific time for quick reboot, restore and restart. Deleting hiberfil.sys file will free up lot of hard drive space.
Disable Hibernate to delete hiberfil.sys on XP
1. Goto Start > Settings > Control Panel.
2. Double click "Power Options" icon and click "Hibernate" tab.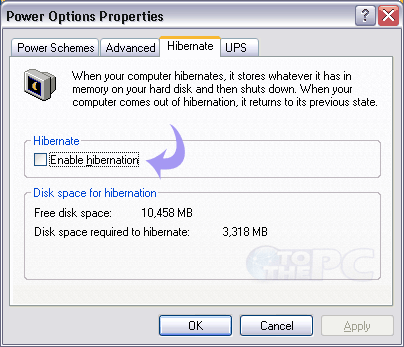 3. Click to uncheck "Enable Hibernate" option to disable hibernation of Windows XP.
4. Restart your PC and you should notice more free space. Goto C drive, if you see hiberfil.sys file, then delete it manually.
Command to delete hiberfil.sys on Win 7 & Vista
1. Goto Start > Run and type cmd in the box.
2. Right click Command Prompt and click "Run as Administrator". Then click Continue on user account prompt.
3. Then type powercfg.exe -h off and press the Enter key.
4. Close command prompt or type exit for closing it.
You can enable it back by using powercfg.exe -h on in command prompt window. Please note: hibernation feature will not work once you disable Windows Hibernate function using above method.