Manually cleaning photos for smooth skin can take lot of time, effort and this may not produce professional looking results. How about automatic image retouching for smooth skin? ClearSkinFX is a free and small program to produce neat version of your digital photos. It smooths the skin of the object while preserving all the details and crispness of hair, eyes or background.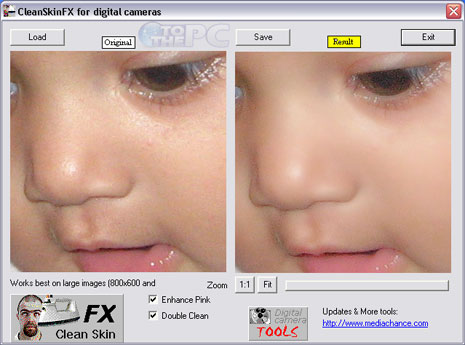 Smooth skin & sharp eyes, hair in photos
1. Download ClearSkinFX program [weblink] & install it.
2. Goto Start > Programs > MediaChance > ClearSkinFX to launch it.
3. Click on Load button to browse & open image for correction.
4. Uncheck or check Enhance Pink & Double clean as per requirement.
5. Once done, click Save button to grab smooth looking image.
Large resolution image may take few minutes to process. It is best for close-up images or photos with human faces / skin. Try out, you will love it!