Title of webpage opened in Google Chrome tab is not fully visible specially when lot of tabs are opened. While tabbed interface of Google Chrome bring ease of opening multiple websites in different tabs within same Google Chrome window, it adds limitation of not able to view complete webpage title. Fortunately, there is a quick way to overcome this issue and view full title of webpages opened in different tabs within Google Chrome browser.
"Show Title Tag" extension for Google Chrome
1. Google Chrome users can install Show Title Tag extension to view full webpage title. Once you install this extension, title text of the webpage is displayed in a neat unobtrusive bar within Google Chrome browser.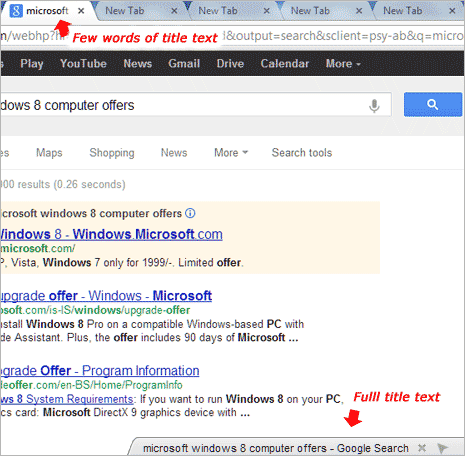 2. It also allows you to customize location of the bar showing webpage's title text. Just click the arrow button to move the bar to either corner of the web browser window. You also hide bar showing title anytime by clicking X button on it.
This is very useful extension for user wanting to see full title of current webpage. This allows tabbed browsing experience with ease of viewing complete title text of the webpages in different tabs. A must install extension for users wanting quick glance on webpage title while browsing lot of webpages at the same time.