Cricket has loads of followers around the world, specially in Indian sub-continent. Google already has a feature to display latest Cricket scores and related information on Google New Homepage.
Now, here is simpler and equally quick way to stay updated with cricket ramblings using Microsoft LIVE Search. Just open the LIVE search in your browser and type cricket. Hit the enter key and see information about cricket action from around the world.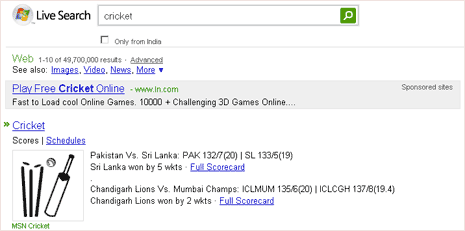 You can also get refined search related to specific match or cricket series. For example type: "Live Cricket India vs Australia" to get information related to on-going match between India and Australia. Click through results and you will reach MSN Cricket page with more details. Interesting?