"…I tell my wife that I don't want to have kids but I do. I just don't want to tell her about my disease." Do you have a secret that world should know – without actually knowing you? Sounds tricky!

Well, now you can share your secrets with world through anonymous Tweets using 'SecretTweet'. Best part, you don't have to provide your name or even have a Twitter account to use it.
Only your IP address is recorded while you dish out your secrets. Just enter your secret, type in the tag (optional) and hit the 'Tweet My Secret' button. Your secrets go public without fear of your identity going public.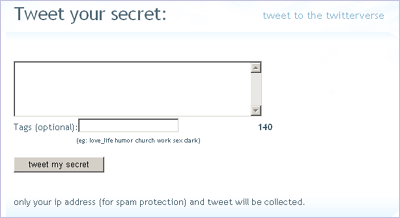 Even if you do not have any secret to share, 'SecretTweet' is worth checking out – what others have been revealing. No wonder, secrets related to work, love and family top the list. Checkout SecretTweet  [Photo Sandmania]