Blogosphere changes quickly with number of new blogs being added daily and number of them left to die. Technorati is out with 'State of Blogosphere' 2008 report dishing out every possible trend and participant of blogosphere.

It is a huge report complied from feeback taken from number of bloggers. "… As blogosphere grows in size and influence, the lines between what is a blog and what is a mainstream media site become less clear."
"… Larger blogs are taking on more characteristics of mainstream sites and mainstream sites are incorporating styles and formats from the Blogosphere. In fact, 95% of the top 100 US newspapers have reporter blogs."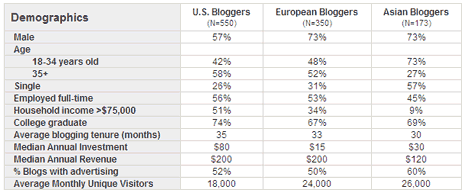 First part of report provide 'Global Snapshot of Bloggers' comparing US, European and Asian bloggers on different parameters like: gender, education, income, blogging tenure etc. Due to large size of report, Technorati will release it in 5 stages in next 5 days.
Day 1: Who Are the Bloggers?
Day 2: The What And Why of Blogging
Day 3: The How of Blogging
Day 4: Blogging For Profit
Day 5: Brands Enter The Blogosphere
Click here [daywise report at bottom] to checkout details of 'State of Blogosphere' 2008 report. Few interesting findings about bloggers and blogs in offering, Bookmark the link and keep checking for next 5 days for full view.