Facebook users upload and share lot of photos, even more than a standalone photo sharing sites like photobucket. Did you notice an abusive, bad taste or mature photo posted by a Facebook user? You can easily keep report such abusive photos anonymously that violate Facebook's "Statement of Rights and Responsibilities" (facebook.com/terms) and help keep Facebook community clean.
Procedure to report photo on Facebook
1. Open page on Facebook showing specific photo in full.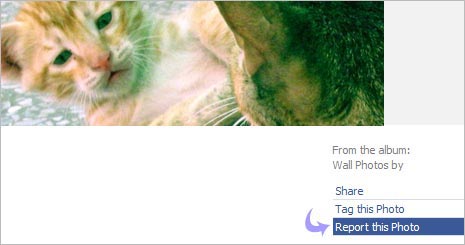 2. Then click "Report This Photo" link located at bottom right of the displayed image.
Before you report a photo, make sure…
Do not report a photo just because you are not looking good in that photo. Also, you cannot report own user uploaded photos because you can always edit / delete them from Facebook (if you think they are abusive). Have safe photo sharing on Facebook!