Tired of refreshing Facebook webpage to stay updated with latest activity in your account? Integrate Facebook within your Firefox browser and stay updated with latest Facebook activity as you browse your favorite websites. It has lot of features to stay connected with Facebook friends, pokes, notifications etc.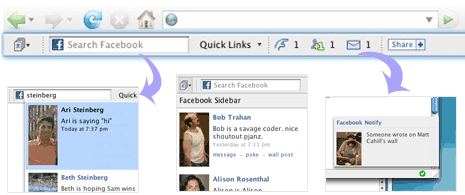 Feutures of Facebook toolbar
1. Search for Facebook friends from the toolbar.
2. Get Notification for new pokes, friend requests and messages.
3. Open Facebook friends sidebar & interact with them.
4. Share buttonlets you share your current browsing webpage with friends.
5. Upload photosbutton allows you to send photos to Facebook. You can also add caption and tag photos.
Download Facebook Toolbar for Firefox browser, it allows easy access to your Facebook account status without need to open or refresh Facebook account in a webpage. Stay connected with Facebook all the time, while you surf other websites!