Majority of Facebook users install and interact with different apps on daily basis. Likes of Farmville, Bingo, Spotify, Hidden Chronicles, Mafia Wars are hugely popular among Facebook users. Till now, we use to get reference for specific app(s) from friend's update. Now there is better and more organized way to discover best and most useful apps on Facebook through newly launched "Facebook App Center".
'Facebook App Center' for top rated & trending apps
Facebook App Center [facebook.com/appcenter] is a dedicated listing of apps used by large number of Facebook users. It only lists high-quality apps, decided through feedback from people who use the app. Facebook App Center feature both web and mobile apps.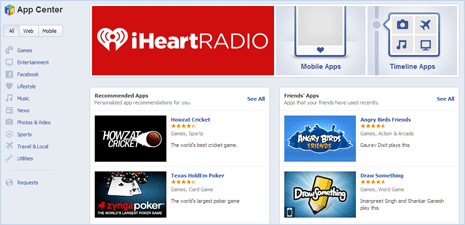 1. It display best apps popular among Facebook users. You can toggle for most useful apps using tabs for: top rated, trending and top grossing. Each App listing has number of users and star rating under the app title.
2. Facebook App Center provide personalized recommendations based on your app usage and that of your friends. You can easily see listing of recommended apps and friends apps that your Facebook friends use on homepage of the App Center.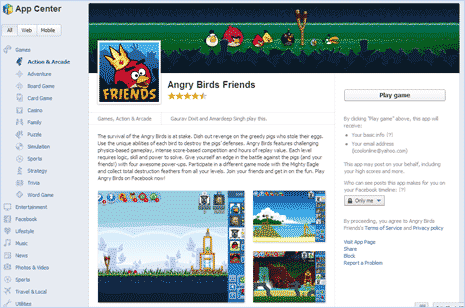 3. Every apps has dedicated preview page with screenshot images and basic app description. This is very useful to get first look of the app in question before you decide to install the app.
4. It also has 'send to mobile' feature that allows you to send apps you find on your computer to your mobile device. Further, if your mobile apps requires download – you will be redirected to relevant location on Apple App Store or Google Play.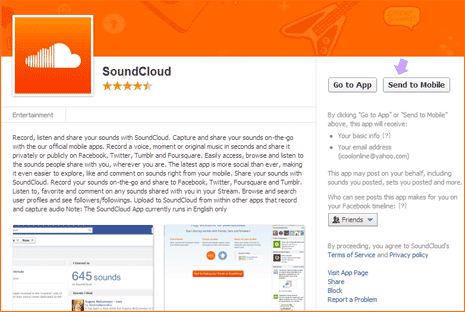 5. Apps listing is neatly categorized by different types like games, entertainment, facebook, lifestyle, music, news, photos & video, sports, travel & local, utilities. There is also link to view all app requests from your friends.
6. You can filter type of apps specifically for web, mobile and even timeline display. Check for web and mobile options at top left part of App Center, while link for timeline apps listing can be found at top right part.