Facebook did makeover of user profile pages and asked users to upgrade user profile page to new design style. Now similar makeover is being given to Facebook fanpages. If you have created a Facebook fanpage then you can upgrade fanpage(s) to new design style layout with a click of a button. New Fanpage layout is very similar to new user profile page design style with few elements moved here and there.
Changes in new Facebook Fanpages layout
1. Most recent photos are displayed at top in the form of row.
2. There are two publicly visible Wall filters: Posts by Page and Everyone.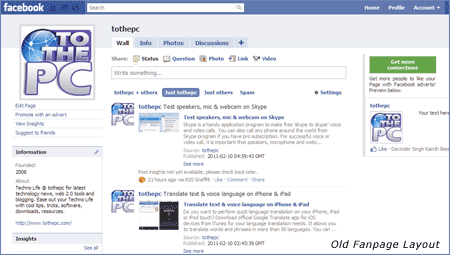 3. You can opt to receive email notifications when people post or comment on your Page.
4. You can feature other Pages your Page likes, or admins of your Page, in the new "Likes" and "Page Owners" sections on the left side of your Page.
5. When people visit your Page, they will be able to view mutual connections, like friends who also like your Page, as well as other Pages that both they and your Page like.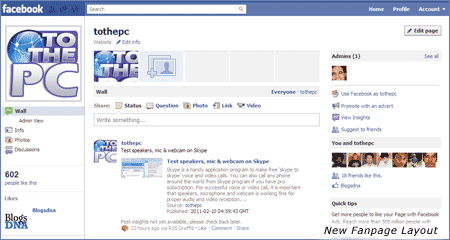 6. Tabs have moved from top position to left column under the fanpage profile picture.
7. Size of profile picture for fanpages has been reduced from 200×600 to 180×540.
8. Change profile to Facebook as fanpage admin. All comments will be attributed to fanpage admin and not as facebook user profile.
How to upgrade to new Facebook Fanpages layout
1. Login into your Facebook account.
2. After Facebook login, open status webpage for your Facebook Pages.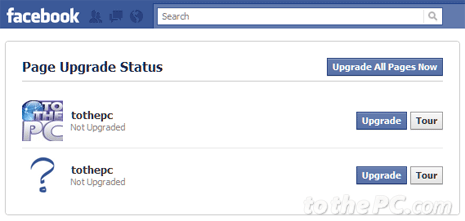 3. Here you can upgrade individual pages to new design by clicking upgrade button. Alternatively, you can upgrade all pages to new design by clicking 'upgrade all pages now' button.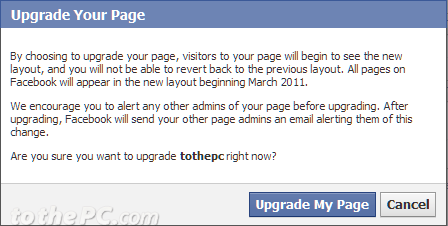 4. Then you will get confirmation screen. Click Upgrade my page button to continue.
Please note: Once you upgrade to new layout of Facebook Fanpages, you can not revert or switch back to old Facebook Fanpages design layout. Incase you do not upgrade now, over a period of time all Fanpages will be upgraded to new layout.