Facebook profile pages has a new look. They have undergone a makeover with re-arrangement of important elements displayed on the Facebook profile page. New look is more 'in your face' with prominent display of your custom photo at the top. Profile page now display lot more information from the time you started using Facebook. You can browse profile information by year and month by clicking date buttons on right side. Facebook profile page design keep changing after regular interval, thankfully new design is better than before.
New more visual Facebook profile design [March 2013]
Facebook has announced design update to Facebook profile pages. "Goodbye Clutter, Hello bright, beautiful stories" form basis of new design layout. This for sure is more cleaner and clutter free whether you are using Facebook on desktop PC, iPad tablet or on your smartphone. Changes in the new Facebook design layout include: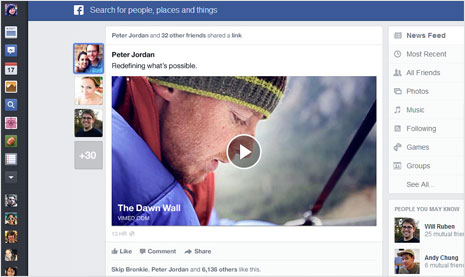 – Bigger stories and photos display in the your Facebook feed.
– Brand new sidebar for quick and easy access to different sections.
– Exclusive seperate feeds for: music, friends, photos and more.
– All notifications will now appear in the top-right corner of the site.
How to get new Facebook design update – Just open fb.com/about/newsfeed webpage, scroll to the bottom and click to join the waiting list. Your Facebook profile will be automatically updated to new design layout showcasing bigger photos and less clutter.
New Facebook profile: Timeline layout [Sept 2011]
Facebook has again changed the look of profile pages. Now Facebook profile page feature timeline of all your previous posts, photos, videos and much more. It neatly displays information in chronological (date-wise) format with mix of photos and status updates.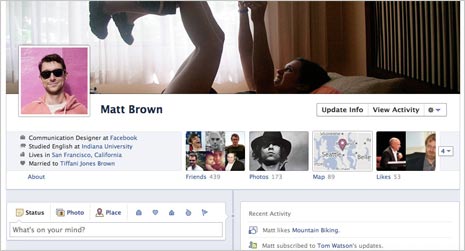 Click here to get new timeline Facebook profile layout in your Facebook account. You can register to get notification when new profile layout is available for your account. Also, you can use easy trick of getting timeline layout for Facebook profile, right now!
Features of Facebook profile page layout [Dec 2010]
1. Basic information and photos –The profile begins with a quick overview of basic information such as where you are from, where you went to school and where you work. Below which you can find row of latest photos related to your Facebook profile.

2. Featured Friends –Left sidebar has listing of friends who are important to you, such as your family, best friends or teammates. You can create new groups of friends or feature existing friends lists.
3. Interests and activities – The new profile layout gives you newer ways to share your interests and activities. You can list the projects you worked on at your job, classes you took in school, your favorite musicians and sports teams and more.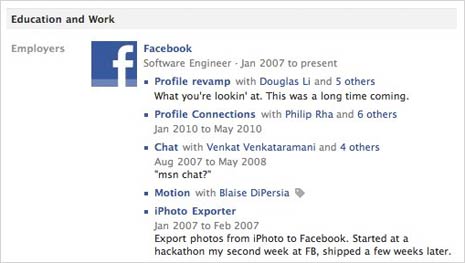 4. Improved Photos and Friends Pages –New "infinite scroll" feature provide fasters and fun way to browse all your photos. Also, friends page now allows you to quickly find the people you are looking for: just search by name, hometown, school or a number of other dimensions. [via Facebook blog]
Procedure to Upgrade to New Facebook profile layout
[This is old information, may not be applicable now –  Dec 06, 2010]
Open facebook.com/about/profile webpage. After Facebook login, click 'Get the New profile' button at top right. You should see new layout of your Facebook profile page.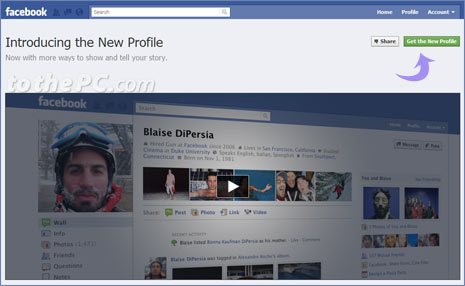 Please note –once upgraded to new profile layout, you cannot switch back to old Facebook profile layout (officially). However, there is a workaround of disactivating Facebook account for sometime to get back old Facebook profile layout.