Facebook is a great way to communicate with online friends. You can share information, photos, videos among Facebook buddies. You can also use Facebook Questions feature to ask specific question and get answers from Facebook friends. You can extend Facebook Questions further and create Poll (Polling question) for getting closed ended feedback from set of answer options of your question.
Create & ask Poll questions on Facebook
1. After Facebook login, look for Question option next to share at top of the page.
2. Click Question option and type your question in Ask Something text box.

3. Then click Add Poll Options button to view text boxes to add Poll options.
4. Type answer (poll) options for your question in Add an Option text boxe(s). You can add as many options for your question but it recommended to keep it less than 10 options.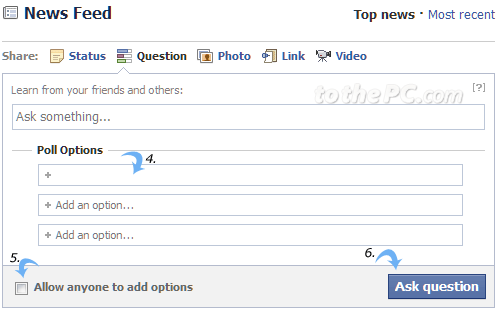 5. Then click to uncheck (no tick) next to Allow anyone to add options to prevent users for adding more options to your question. You may keep this option checked to allow users to add more options to your poll question.
6. Then click Ask Question button to post this Poll Question in your Facebook timeline. Your Facebook friends will able see this polling question and respond by selecting either of provided answer options.