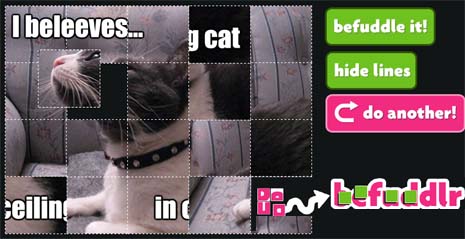 Flickr has tons of photos online – how about playing with them? Befuddlr is a free web app and an ultimate time waster to play with images. Nothing serious, just plain fun with Flickr photos. Here is quick 3 step guide to play using Befuddlr
Select the Flickr photo group among displayed options.
Then select the photo from images appearing on the screen.
Now its time to play or fuddle up the selected photo.
Grid lines will appear (as shown in pic above). Using mouse pointer move around various blocks. You can of-course set lines to invisible for more fun.
Click on 'Befuddle it' button and see blocks move and reset automatically. Press it again and see image getting 'Befuddled'. Like it? Click here for befuddlr