Do you love sharing photos using Instagram service on your Apple iPhone? If yes, how about backing up and saving copy of Instagram photos on your local computer hard drive? For starters: Instagram provide quick and easy way to share photo through their free iPhone application. Once you download Instagram app on iPhone – just click photo using iPhone camera, add effects and share it online on different social networking websites like Facebook, Twitter quickly. You can backup your Instagram photos using free InstaPort service.
Downloading Instagram photos using InstaPort
1. Open InstaPort website and click 'Sign in with Instagram'. After successful login, authorize your Instagram account to use InstaPort service for downloading photos.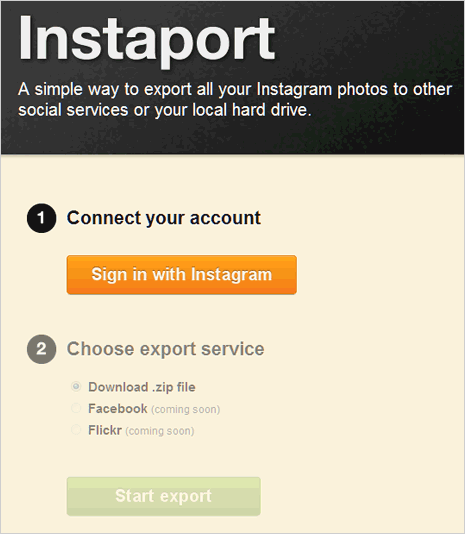 2. Once authorization is complete, click to select 'Download .zip file' option to download and save all Instagram photos as one zip file on your local computer hard drive. Click Start Export button and you are all set with Instagram images download and backup.
As of now, Instaport support downloading and saving photos on local computer only. Feature to send photo collection to your Flickr or Facebook account could be added soon. Though Instaport is unofficial service, it is very handy in grabbing all your Instagram photos and creating their backup on your computer.