We have already seen best free Backup tools for Windows operating system. If you do not like to install programs and still want to backup, then checkout "Toucan" free portable tool to backup data. It is a simple to use utility to synchronise, backup and secure data to any desired location. It has tab interface with neat classification of basic backup, sync and restore jobs.
Features of Toucan portable backup tool
1. Backup and restore in industry standard zip and 7-zip files.
2. With sync feature updating existing & differential backups.
3. Command line support help you create a batch file for repeat jobs.
4. Backup to any place on your USB drive.
5. Support 4 sync modes, copy, update, mirror & equalise.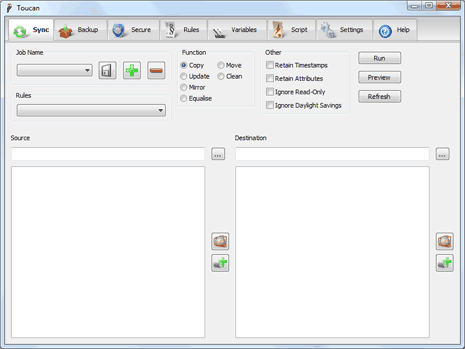 Download Toucan, then double click to extract contents in specific folder. Double click Toucan icon to launch the program and start the backup routine. Easy, simple and portable way to backup important data – try it!