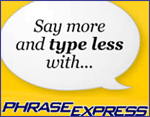 Do you want to reduce the risk of suffering from repetitive strain injury as a result of excessive use of the keyboard? Oh, what a heavy loaded question! In more simpler terms, do you want to reduce the stress of manual repetitive typing for long duration?
If yes, then how about adding  little automation to manual typing process and save valuable time – effort? This is possible with the help of free application 'PhraseExpress'. It organizes your frequently used text snippets and allows pasting them into any application.
It can save you countless keystrokes and expands custom abbreviations into frequently used text snippets. Typing 'btw' expands into 'by the way' or typing 'excel' can open your spreadsheet program in a snap. Basic features include:
It can Expand abbreviations and common phrases as you type.
Ability to launch applications by entering text shortcuts.
Autocomplete phrases with the predictive text recognition.
Allows in quick handling of email responses.

It's text prediction feature automatically recognizes repetitive phrases and autocomplete them on demand. It also automatically checks for misspellings. It is very useful in writing repetitive text for example in sending invitation messages, pre-scripted letter and much more.
PhraseExpress: Website  – DemoVideo – Download
An excellent measure to prevent repetitive typing strain. Best part, this software is absolutely FREE for personal use. Get set for typing with little automation, what say?