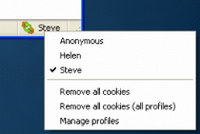 With so many different types of web services available, one tends to have more than one email address with different hosts.
Like, if you have more than one email address on Yahoo and Gmail. Normally you would have to log out from one so as to login into another. Well, this is thing of past, you can now access both the email accounts, without loging off from one.
This is possible using Cookie Swap. It is an extension that enables you to maintain numerous sets or 'profiles' of cookies that you can quickly swap between while browsing.
It is a firefox Add on that enables you to easily swap all your cookies so that you can be logged in to multiple web e-mail accounts (like Gmail and Yahoo! mail) at the same time and quickly switch between them.
CookieSwap: Download & Read More
After you download and install it, using it is very easy. Right click on the CookieSwap area of the Status Bar Panel (lower right corner of the browser) to bring up the CookieSwap menu. Select a profile you want to work in. Right click again and change the profile.