Till now, we could only send emoticons in chat window on Facebook. Take things to the next level, introducing "Stickers" for Facebook chat. They are used just like emoticons but are better looking and more detailed illustrations of characters with personality. Stickers allows you to express variety of emoticons quickly through cute and interactive 'sticker' photos. Just like emoticons, there is huge list of 'stickers' available for Facebook Chat.
Use & send 'Stickers' to Facebook friends
1. Click on any friend's name in the Facebook chat window (located at bottom right). Then click on emoticon at bottom right next to camera icon (which is used to send photos in Facebook chat). You should see small pop-up window showing 'sticker' images.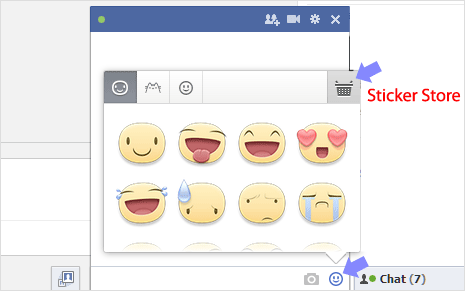 2. Browse through listing of sticker photos and click to send any sticker to your friend on Facebook chat. Stickers are organized under different tabs like 'meep', 'pusheen'. They are cute and very adorable to look at.
Stickers Store to add more 'Stickers' to Facebook chat
1. Besides usual listing, you can add more 'sticker' image sets to Facebook chat. Click on Sticker Store button at top right part of the stickers pop-up box. You should see another pop-up box showing listing of additional sticker sets.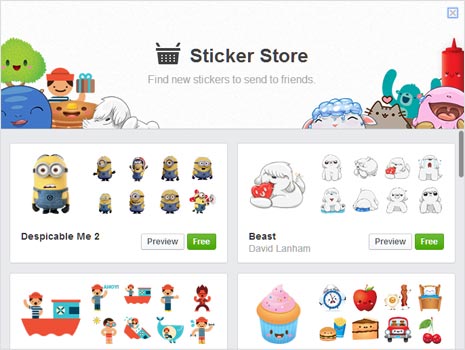 2. You can click preview specific sticker set to see all sticker images contained in that set. Listing includes sticker sets like: Despicable Me 2, Beast, First Mate, Happy Go Lucky, Wide eyes, Bun, Hatch, Mango and so on. Add one more sticker set for use in Facebook chat.
Video preview of photo 'Stickers' on Facebook Chat
As of now, all sticker sets in the Sticker Store are free. Look like Facebook may add premium (paid) sticker sets once their usage catches on – lets wait and watch but this for sure is nice fancy addition for Facebook Chat users. No need to stick to boring emoticons – hey, send a sticker!