XPScene is a cool free utility that allows you to use any video as desktop wallpaper. It generates a HTML file with embedded Windows Media Player (playing the selected video file). That HTML file is used as desktop background that actually plays the selected video.
To get started, after you download, install XPScene – run it. Select the input video among formats like wmv, mpg and avi. Then select resize mode: Use "stretch" to avoid black bars, or "keep aspect ratio" for best quality (default, recommended). Then select output folder to store the video, HTML files and click on create button.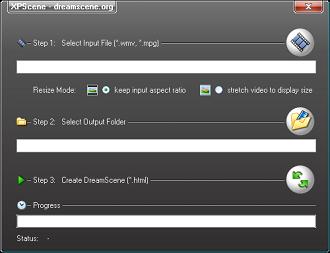 Now we need to select the created HTML file as background wallpaper. Goto Display Properties > Desktop > Background > Browse. Select the HTML file and set it as wallpaper. Video will start playing on the desktop background. Very easy and effective way to get over boring wallpapers. Download XPScene & make your desktop exciting like never before.